BCN Patòlegs
Pathology professionals since 1970
BCN PATÒLEGS was founded by a group of pathologists from the University Hospital of Bellvitge in Barcelona (Spain), where there is one of the most respected Pathology Departments in Europe. The firm was created in response to the demanding needs of the private sector in Barcelona and, since then, it has been permanently growing to become one of the most efficient and known laboratories of its kind.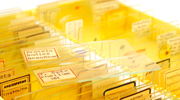 BCN PATÒLEGES
The professionalism of our staff, the proven record of our working methods and our modern and automated facilities are the basis of our success. BCN PATÒLEGS is currently processing 18.000 biopsies, 60.000 gynecological cytologies and 3.000 non-gynecological cytologies (punctions and general cytologies).
BCN PATÒLEGS headquarters are based in Barcelona. Our facilities are equipped with top brand equipment.
BCN PATOLEGS success is based on our three main service goals: 100% correct diagnostics, quick response and competitive fares.